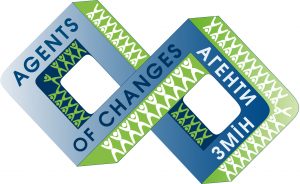 Creation of a Project-Education center for development of innovations and investments in the region / Project-Education center «Agents of Changes» of PNU
Project acronym: «Agents of Changes» of PNU
Project web-site: http://agentyzmin.pnu.edu.ua/ua
Project duration: January 2018 – December 2020
Grant Amount within the EU sectoral budget support program: 7 904 409 UAH
Grant holder: Vasyl Stefanyk Precarpathian National University, Ukraine
Project goals: Increasing the level of innovation and competitiveness of the region economy by strengthening its institutional capacity, improving informational and educational provision  of projects management.
Specific project objectives are:
Improvement of institutional conditions for developing innovative infrastructure by creating Project-Education center for developing innovations and investments in the region at science park of the university aiming at rendering consulting and educational, informational services in the field of writing and projects management. (next – PM).
Increase of personnel's development level of potential innovative activity in the region by forming the team of specialist-coaches of the Centre and improvement of programmatic and methodical component of project management system for providing project-educational and informational-advisory activity.
Improvement of knowledge and acquiring practical skills from PM by conduction of consulting and educational events for students, postgraduates, scientist, workers of strategic department of the university, local governments, subjects of small and medium business, public organization, institutions of educational, social, cultural and artistic spheres, health care, etc.
Perfectibility methods of planning strategic development of the university and structuring of directions its project activity through the development of the University Development Strategies and its key units for 2020-2027.
Achieved results:
Created and equipped Project-Education center «Agents of Changes» of PNU/improved of consulting and educational component of developing innovative infrastructure of the region.
Created website and plarform of Centre «Agents of Changes»for placing of informative materials and conduction of vebinars, online-consultation from PM/improved opportunities of informational and educational activities from PM in the region.
Formed team of specialists from project management, improved level of their professional competence for providing project-educational and informational-advisory activity of the Centre/developed personnel's development level innovative activity in the region.
Developed of programmatic and methodical providing of consulting and educational activity of the Centre for different types of projects/ improved of methodical base from questions of PM.
Condacted of ocular and online consulting and educational events for target groups of the project/ improved professional skills of target groups from PM.
Organized and secured students passing of economic and non-economic specialties of industrial practice at the Center / acquired new knowledge and skills with PM.
Developed and eproved planning documentation from strategic developing of the university and its  key structural units the basis of the project approach for 2020-2027 years/improved structure of the project activity of the university and the methodology of strategic planning of its developing.
Partners:
Science Park «Precarpathian University» (Ukraine);
Contact person and project manager: Svitlana Kropelnytska, Director of the Project-Educational Center «Agents of Changes» of the PNU, Associate Professor of the Department of Finance,
e-mail: skropelnytska@gmail.com